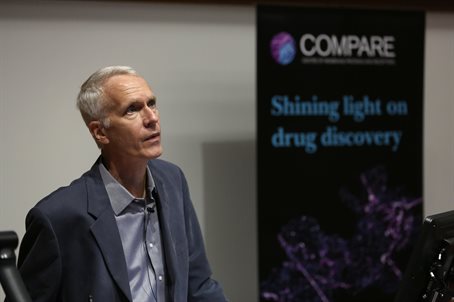 COMPARE, a unique collaboration between the Universities of Birmingham and Nottingham that brings together leading researchers to develop novel methods for visualising single membrane proteins, was officially launched on 18 April 2018.
The launch, which was held at Queen's Medical Centre, University of Nottingham, was introduced by Professor Tim Softley, Pro-Vice-Chancellor for Research and Knowledge Transfer at the University of Birmingham. Professor Softley outlined the significance and importance of this partnership to the worldwide audience.
Professor Brian Kobilka, winner of the Nobel Prize in Chemistry 2012 and Professor of Molecular and Cellular Physiology and Medicine at Stanford University, gave a talk on 'Structural insights into the dynamic process of G protein coupled receptor activation'.
COMPARE aims to identify new approaches for the prevention and treatment of cardiovascular disease, respiratory disease and cancer angiogenesis. Information from state-of-the-art imaging technology will enable the development of a new generation of drugs with reduced side effects by virtue of targeting receptors in their unique membrane environment.
Approximately 70% of COMPARE PIs in Birmingham work within the Institute of Cardiovascular Sciences.