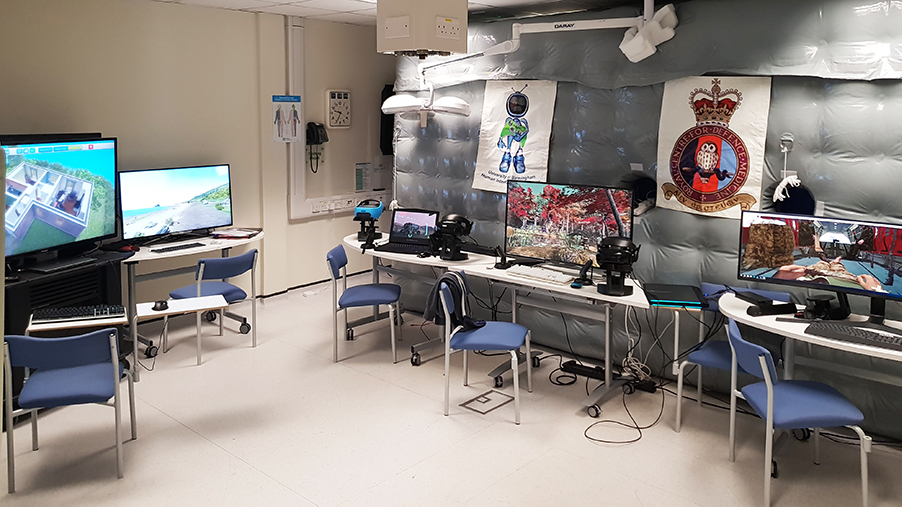 The School of Engineering's Human Interface Technologies Team staged its busiest Virtual, Augmented and Mixed Reality (VR, AR and MR) event to date when it took a range of technology demonstrators to Torbay Hospital in Devon as part of an awareness-raising day for NHS executives, healthcare personnel and their families.
The event was organised as part of an ongoing collaboration with the Hospital's Horizon Innovation Centre and Nick Peres, the Centre's Lead for Learning & Emerging Technologies R&D.
Visitors to the event were able to experience a wide range of VR and MR demonstrations and associated hardware, from the latest version of a "Fantasy Garden", being developed for studies of distraction with children suffering from chronic pain, and for relaxation/meditation during palliative and end of life care, to the HIT Team's large, inflatable Mixed Reality Medical Emergency Response Team training simulator, currently under development for the Royal Centre for Defence Medicine, complete with the TraumaFX SIMBODIE casualty mannequin.
One popular demonstration, although not originally developed with healthcare in mind, was an interactive virtual apartment, consisting of two bedrooms, a living room, kitchen and shower room. The original aim of this demonstrator, developed in 2014 as part of a research project called eViz (sponsored by the Engineering & Physical Sciences Research Council (EPSRC)), was to investigate the potential use of VR in influencing the behaviours of domestic energy customers. Users of the eViz apartment are able to select a variety of window, insulation and domestic lighting options and are then tasked to explore the apartment in an attempt to optimise energy usage, checking on a wide range of virtual home appliances. However, at the Torbay event, the apartment was included to show how straightforward it would be to re-use the project's original 3D assets and to add others, enabling 'care in the community' specialists and trainees to assess the day-to-day conditions of elderly and vulnerable individuals who may be living alone or with significant physical or psychological issues.
Professor Bob Stone, the HIT Team's Director said, "It was a non-stop effort on the part of the HIT Team – so many enthusiastic members of the Torbay & South Devon NHS Trust keen to learn more about the pros – and cons – of VR technology. A real pleasure to work with Nick Peres and colleagues once again and to discover how, with a few small modifications here and there, our research projects could have a much wider impact in the future than we first imagined".
Nick Peres added, "Throughout the day Bob and his team presented and demonstrated the incredible work, including the MERT trainer, to well over 200 drop-in visitors who engaged with the technology on a level where realistic but impressive experiences were met with real value possibilities on how a collaboration between the Trust and the University of Birmingham could genuinely make an impact on healthcare for both our staff and patients alike. The day was a huge success, not only from an engagement point of view, but also as a mechanism to ignite further ideas and collaboration opportunities which we feel is vital as a forward thinking, innovative NHS Trust. In short, the HIT Team went above and beyond to make the event really something special. We look forward to working together more in the future". ​