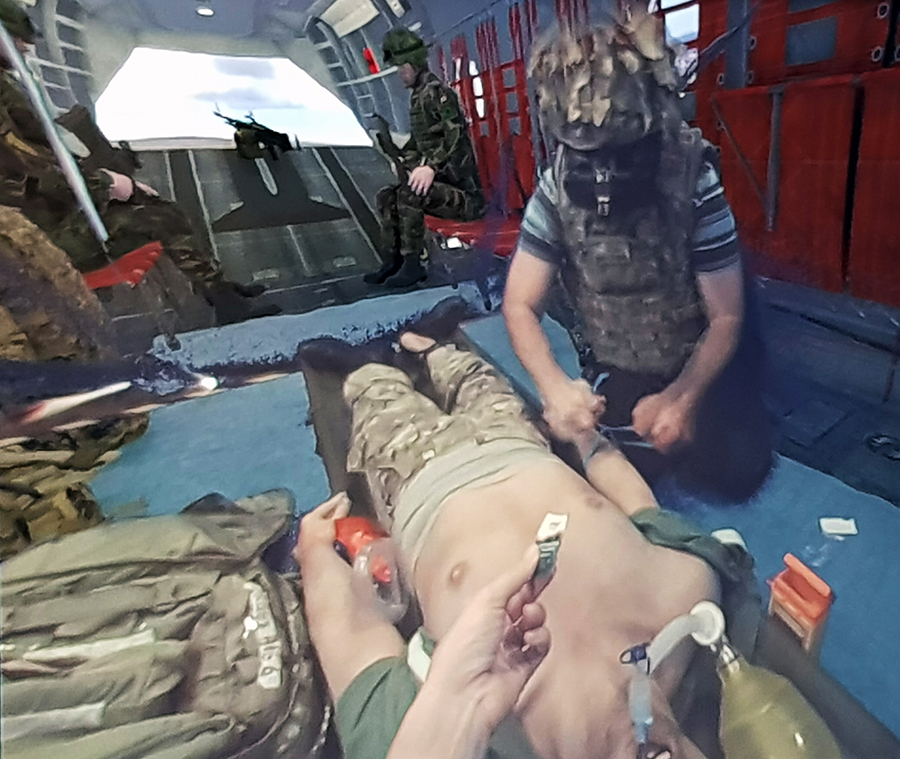 The School of Engineering's Human Interface Technologies (HIT) Team, under the direction of Professor Bob Stone, recently concluded a successful interim usability trial with its Mixed Reality Medical Emergency Response Team (MERT) training concept.
The Mixed Reality MERT trainer is part of a unique research contract sponsored by the Medical Directorate of the UK's Joint Medical Command via the Royal Centre for Defence Medicine. Currently, defence medics train using fixed-location, expensive and low fidelity simulators. Experiences from recent international conflicts have identified the need to enhance future pre-deployment individual and small-team training by presenting them with operationally relevant simulated environments and tasks. The HIT Team's MERT training concept seeks to achieve this, not only by "blending" real-world, physical objects with detailed and dynamic virtual environments, such as a Chinook helicopter in flight, but also by simulating life-saving casualty scenarios whilst onboard a range of different vessels, aircraft and vehicles.
Professor Stone explained: "Our Mixed Reality concept is based on an inflatable enclosure that can be transported to different military locations and made ready for training within 45 minutes. Within the enclosure, which is completely covered in a blue material, we place physical objects of direct relevance to the training being undertaken, most noticeably a highly realistic human mannequin lying on a stretcher".
The MERT trainer has evolved significantly from the original concept presented to RCDM, which involved filling the interior with a wide variety of physical objects – replica weapons, military backpacks, seats and so on – to create a sense of "confinement" for the end users.
Professor Stone continued: "The latest version of the enclosure enables us to do away with the "clutter" of the previous set-up by using a VR headset, modified by attaching a 'pass-through' camera which enables the wearer to see the real world, as well as the virtual. But we also use a technique that special effects developers call chroma key, hence the blue material. In essence, blue areas captured by the headset-mounted camera and chroma key software are 'cut out' to reveal the surrounding virtual environment, in this case, the simulated interior of a Chinook helicopter in flight".
One of the major benefits of this technique is that not only are the VR headset wearers able to view the realistic human mannequin within the virtual helicopter (the Team has also developed 3D models of a Royal Marines Landing Craft and Hovercraft and a British Army Mastiff vehicle), they can also see their own arms and hands and can reach out to interact with the mannequin. This is a highly important development and avoids the need to interact with unconvincing virtual casualties using costly and technologically immature haptic (force/touch) gloves.
The latest version of the MERT trainer was recently subjected to a usability trial, in which personnel from the Tactical Medical Wing of RAF Brize Norton were invited to Birmingham to test the latest technology, including paramedics, emergency nurses and an Army Consultant in Emergency Medicine. The participants, working in pairs, were requested to undertake a number of basic medical tasks, involving the mannequin, modified to represent life-threatening gunshot entry and exit wounds. At all times, they were undertaking tasks "onboard" the virtual Chinook (see collage).
Participants' scores in such issues as the sensation of "Presence", Simulation Realism and Technology Acceptance scores were judged to be very acceptable for a mid-term usability evaluation of an innovative and quite unique concept training demonstrator. Negative comments were (predictably) directed towards disorientation issues associated with wearing a VR headset, but this element of the simulation technology is developing all the time, with many new headset options becoming available during the remainder of the project. The feedback and suggestions from the RAF personnel for future improvements to the MERT trainer were invaluable and many are currently being put in place, ready for a more comprehensive series of evaluations being planned for the summer of 2019.
Professor Stone will share insights and discuss the future of the MERT simulator at the Medical Innovation 2018 conference at Edgbaston Stadium in Birmingham on 2 October 2018. Please watch the video to find out more about his session.