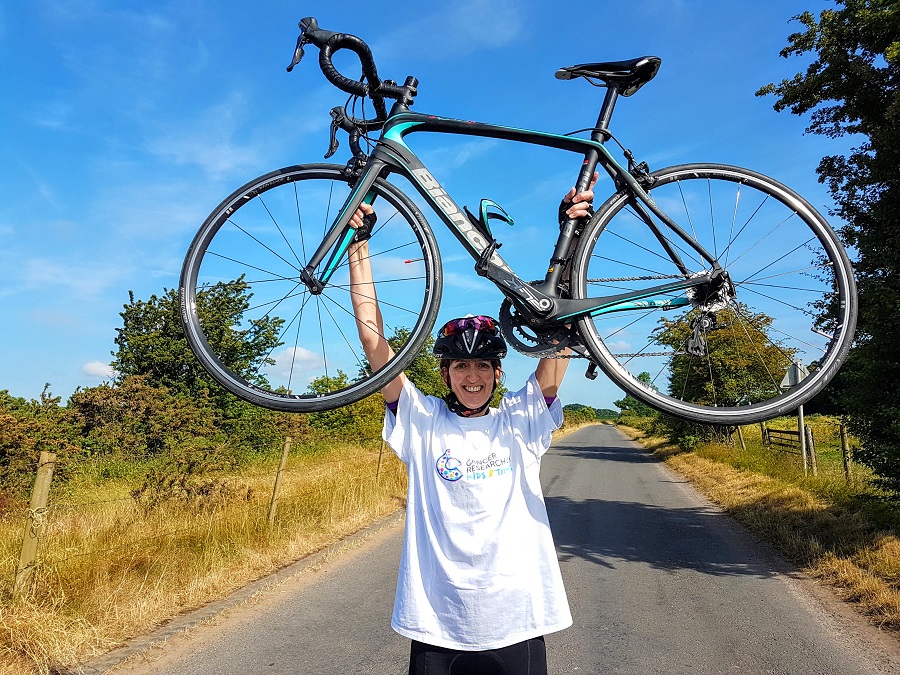 Congratulations to Professor Pam Kearns, Director of the Cancer Research UK Clinical Trials Unit, who cycled 174 miles across England in just 13 hours and 16 minutes to raise cash to help young cancer patients and their families.
Avid cyclist Professor Kearns, who is also Cancer Research UK's children's cancer expert, tackled the challenging coast to coast 'Way of the Roses' cycle route on Saturday 4 August – which normally takes around four days to complete – in less than 14 hours.
The hilly route between Morecambe in Lancashire and Bridlington in Yorkshire is famous for its spectacular and challenging scenery as it snakes its way through the Lune Valley, Yorkshire Dales, Nidderdale and Yorkshire Wolds.
Professor Kearns, who lives near Penkridge in Staffordshire, shifted her fundraising up a gear to raise money for two causes close to her heart: Cancer Research UK Kids & Teens and A Child Of Mine.
Professor Kearns said: "This was a major challenge for me. It was 174 miles and a total climb of 8,878. My husband was my 'support team' and provided me with food, fluids and moral support, and photographed and tweeted the whole journey using the hashtag #PedallingProf."
"As a children's cancer doctor at Birmingham Children's Hospital I have seen the great progress made in treating this disease in young people, which means more of them survive cancer but there is much more we need to do.
"Cancer Research UK Kids & Teens supports a lot of the research we do here at the University of Birmingham, including the Clinical Trials Unit, which is so crucial to bringing new treatments to the clinic.
"But sadly, not all children survive cancer. A Child Of Mine was set up by the mum of one of my patients who died from neuroblastoma to support parents who have suffered the unimaginable loss of a child to any disease, not just cancer."
Around 4,500 children and young people 24 and under are diagnosed with cancer every year in the UK. Survival for this group has improved over the last 40 years in the UK, meaning today, more children and young people are surviving cancer than ever before.
Despite this progress, around 520 children and young people die from cancer every year in the UK, and some of those who survive often experience serious long-term side effects that affect them for the rest of their lives.
Cancer Research UK Kids & Teens is a campaign that raises money to fund research to help find new, better and kinder treatments for children and young people with cancer.
Jane Redman, Cancer Research UK spokeswoman for the West Midlands, said: "Professor Kearns' mad challenge speaks volumes about her passion for improving cancer treatment and survival for children and young people with cancer. We are very grateful for her commitment and wish her all the best for her amazing bike ride."
A Child Of Mine was set up in 2012 by Staffordshire mum Gayle Routledge to help and support anyone affected by the death of a child. Gayle established the charity after the death of her own son, Lewis, to a type of cancer that affects children called neuroblastoma.
Gayle said: "We are incredibly grateful to Pam for taking on this challenge and for choosing A Child Of Mine as one of the beneficiaries. The funds and awareness raised for our charity will make a big difference to us and the work we do."