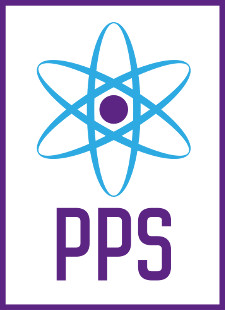 Hi! I'm Lucy Harrison and it is a pleasure to introduce myself as the recently elected President of the Poynting Physical Society for 2018/19.
We've had an incredibly successful year with some exciting new events, such as our Internships Fair which was held for the first time in the spring term. This involved presentations from brilliant speakers from the Ogden Trust, Cockcroft Institute and SURE to name a few, as well as talks from current students about their personal experiences with internships. This was then followed by a networking session with the usual cheese and wine accompaniments!
Some of our other events have been the Autumn and Spring Quizzes which achieved fantastically high turnouts of over 130 people. We also held an educational day trip to the Daresbury Laboratory where 30 students were taken up the M6 to attend the National Particle Accelerator Open Day. This was an incredible opportunity to see ground-breaking research and build relationships with experts in the field. A charity film night was also held in order to raise money for MSA Trust. We raised over £80 for this great cause during a showing of Tommy Wiseau's multi-Academy Award winning film, The Room.
Of course, it wouldn't be a PPS term without our traditional themed socials! This year saw the release of 'Bar Wars – The Last Crawl' which led to some very strange looks from Birmingham residents when they saw the trail of Darth Mauls, R2D2s and even a Gonk Droid parading through the streets!
In addition to our own events, PPS has been involved with the organisation of the first ever EPS Trophy competition. This was a day of both football and netball tournaments with teams competing from across the Colleges and, while we may not have won we certainly gave it a good go! As this is the first time in recent years that PPS has had its own netball team, it was a great event to be involved in the competition and we are hoping to do so again in years to come.
The final event of the year was the PPS Spring Ball which was our biggest ever with an incredible 389 tickets sold! Held in the University's own Great Hall, this beautiful venue saw both staff and students in all their finery for a 'Roaring 20s' themed night of great food, live music and, of course, feather boas and pearls galore. No doubt this night will be remembered for years to come as one of the most extravagant nights ever run by PPS!
I would like to take this opportunity to thank former President Joe Martin and the rest of the committee for all of their hard work throughout the year – they have all done a fantastic job and the success of the multitude of events reflects this. Many thanks are also in order to BP for their generous sponsorship.
Nominations for the EPS Awards have just opened so if PPS have impressed you this year with our wide diversity of events then please nominate us for an award! It would be fantastic for the hard work of the committee to be recognised with an award during the year of our biggest ever events.
I look forward to the year ahead and hope to continue our upward trend with a variety of both social and educational events. It really is a privilege to be running such an incredible society!
Best regards,
Lucy Harrison
President of Poynting Physical Society 2018/19