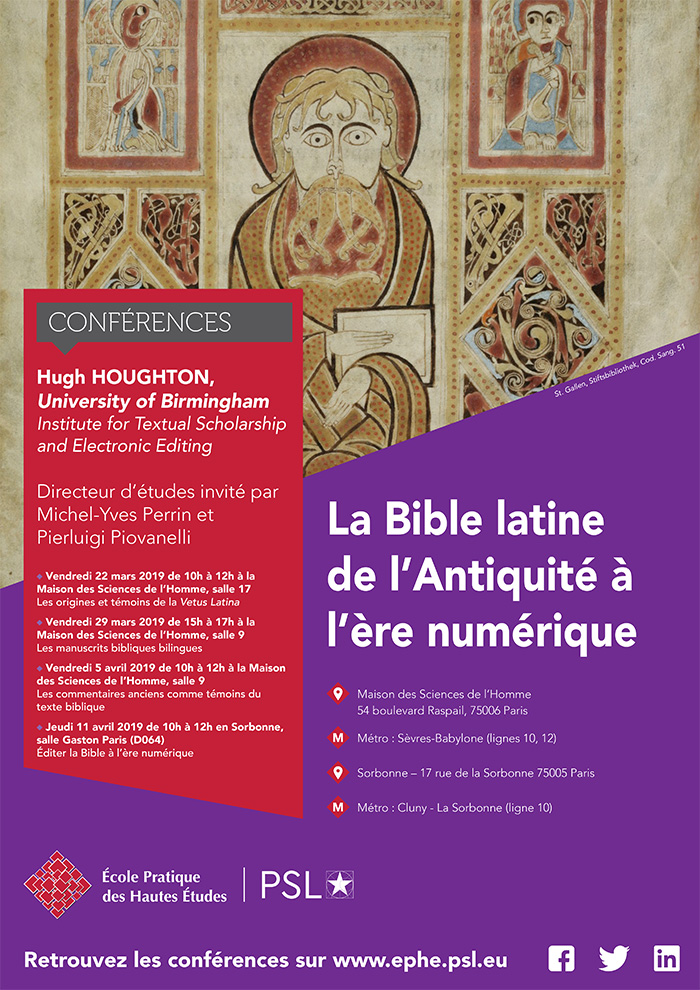 Hugh Houghton has been appointed as a visiting professor at the University of Paris and will give a series of lectures this month.
Professor Hugh Houghton, Director of ITSEE, has accepted a month-long appointment in Paris as a visiting professor (directeur d'études invité) at the prestigious École Pratique des Haute Études. His hosts, Professor Michel-Yves Perrin and Professor Pierluigi Piovanelli, have invited him to give a series of four lectures on the theme of The Latin Bible from Antiquity to the Digital Age (La Bible latine de l'Antiquité à l'ère numérique). These will be presented as follows (in French):
Friday 22 March, 10–12 (Maison des Sciences de l'Homme, Room 17): The Origins and Witnesses of the Vetus Latina
Friday 29 March, 3–5 (Maison des Sciences de l'Homme, Room 9): Bilingual Manuscripts of the Bible

Friday 5 April, 10–12 (Maison des Sciences de l'Homme, Room 9): Early Commentaries as Evidence for the Biblical Text

Thursday 11 April, 10–12 (Sorbonne, Gaston Paris Room): Editing the Bible in the Digital Age.

Professor Houghton said, "This is a wonderful opportunity to visit colleagues in France to share results from the research which is going on at Birmingham and learn more about the important work which is being undertaken there. I'm delighted to have been able to accept this invitation and am looking forward very much to delivering these papers."
While in Paris, Professor Houghton also hopes to examine biblical manuscripts at the National Library of France.