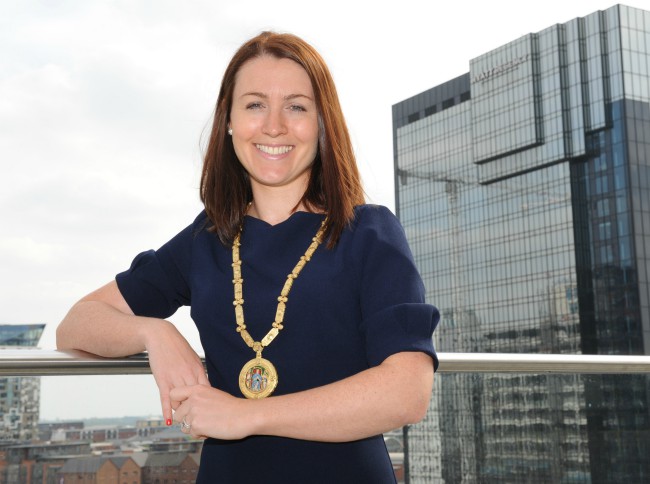 Linden Thomas, a senior lecturer from the Birmingham Law School has been appointed as President of the Birmingham Law Society.
At just 34, Linden Thomas is believed to be the youngest person to lead the Birmingham Law Society in its 200-year history, and only the sixth woman to do so. As a passionate advocate for equality, she has pledged to make access to justice a key priority issue for thousands of people across the Midlands who cannot afford legal representation during her year-long presidential tenure.
As President of the Birmingham Law Society, Linden will also lead its members in supporting two local charities (Citizens Advice Birmingham and the Central England Law Centre) that facilitate access to justice.
"I am honoured to be taking on the role of President of Birmingham Law Society. It is a dynamic and active organisation which works to bring many benefits to its members and to the wider community. We have an exciting and ambitious agenda planned for the coming 12 months which will include a particular focus on access to justice, mental health and wellbeing in the profession and equality and access to the legal profession. I am particularly proud to be taking on this role during the 100th anniversary year of women being able to practise law."
Linden joined Birmingham Law School in September 2013. As supervising solicitor she is responsible for coordinating the School's pro bono programme, which includes the Birmingham Free Legal Advice Group, the Birmingham Environmental Law Foundation Clinic, an active Streetlaw public legal education programme and many other projects.
In April 2014 Linden also took on the role of Manager of the Centre for Professional Legal Education and Research (CEPLER). She is responsible for overseeing CEPLER's diverse range of activity and its links with the legal profession.
Linden is committed to pro bono work. She chaired Birmingham Law Society's Pro Bono committee between 2014 and 2018 and is a Trustee and Chair of the Board for Citizens Advice Birmingham.
Professor Lisa Webley, Head of Birmingham Law School welcomed Linden's appointment: "We are delighted that Linden Thomas becomes President of the Birmingham Law Society today, and in the year in which we celebrate 100 years of women in Law. Linden plays a pivotal role in our Centre for Professional Legal Education and Research, as both CEPLER Manager and as one of our clinical legal education experts teaching law through the lens of legal practice."
Linden officially took up her position of President at the Birmingham Law Society AGM, held on Tuesday 30 April 2019.
For more information or interviews, please contact: Hasan Salim Patel, Communications Manager (Arts, Law and Social Sciences) on +44 (0) 121 415 8134 or contact the press office out of hours on +44 (0) 7789 921 165.
For almost 100 years Birmingham Law School has led the way in legal education and research. One of the world's finest law schools, it continues to provide our students with innovative, challenging and research-driven education. The research contributes not only to the legal profession, but also to business, governance, public policy, NGOs, and the arts, as well as to the discipline of law per se. Located in the country's first civic university, we are a global, diverse and civic law school committed to excellence in all of our endeavours.
Birmingham Law School provides an expansive range of programmes, for both undergraduate and postgraduate studies and employ a range of approaches in teaching and research, from the theoretical and doctrinal to the empirical and applied. The research is recognised on a global stage, and the academics are frequent participants in legal debates and contribute to the policy-making process. They provide students with more than just a degree, and enable them to develop the skills required to enhance their employability.
The University of Birmingham is ranked among the world's top 100 institutions, its work brings people from across the world to Birmingham, including researchers and teachers and more than 6,500 international students from over 150 countries.