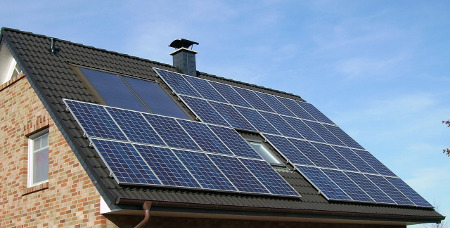 On Tuesday 5 March the Chairman of energy regulator Ofgem, Martin Cave met with representatives from Cannock Chase District Council and the University of Birmingham to find out about an innovative community solar photovoltaic (PV) scheme that reduces the bills of Council tenants and feeds surplus energy into the national grid.
Three hundred and thirteen solar PV installations are managed by Chase Community Solar (CCS), one of the largest community energy projects in the UK managed entirely by volunteers. The current scheme has resulted in council tenants who are at risk of facing fuel poverty, saving up to 50% of their electricity bills.
This meeting explored the feasibility of a new pilot scheme that would store electricity in batteries added to some of these solar PV installations. This stored electricity can be used when the sun is not shining or exported when the value of the electricity is much higher. This would result in free electricity being available for the tenants both at night and in the early morning and would increase fuel bill savings.
Green Energy Networks developed the proposed system with the Council and CCS, they believe this new market model has huge scope to be rolled out to other places, as an exemplar within the renewable energy industry.
Green Energy Networks and CCS will work with the Energy Systems Catapult and the University of Birmingham's ERDF funded ATETA programme to evaluate the scheme. The project data will be analysed by Professor Xiao-Ping Zhang and his colleagues from the University of Birmingham's Department of Electronics Electrical and Systems Engineering. The team will review the schemes potential to generate savings for consumers and the ability to reduce carbon emissions.
Richard Baines, currently seconded to Energy Systems Catapult from the ATETA programme and the Chair of Chase Community Solar said: "This pilot facilitates new electricity market arrangements needed to maximise the carbon and fuel bill saving potential of intermittent renewable generators embedded in local electricity grids"