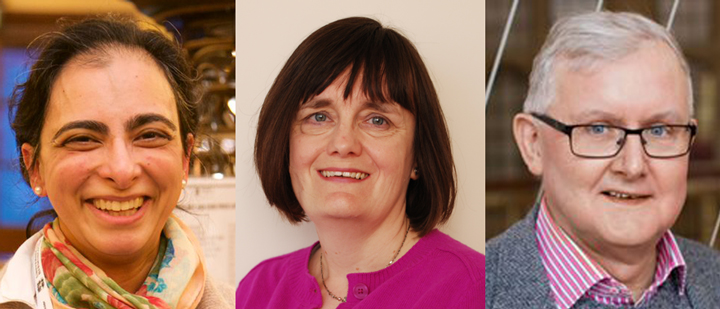 Staff from across the University of Birmingham have been recognised in the 2019 New Year Honours.
In total, 3 staff have received honours for their work at the University. Dr Jagbir Jhutti-Johal, Senior Lecturer in Sikh Studies receives an OBE for services to Higher Education, Faith Communities and the Voluntary Sector, Dr Malcolm Dick, Lecturer in Regional and Local History and Director in the Centre for West Midlands History, receives an OBE for services to History in the West Midlands and Gail Rothnie, Head of Outreach, receives an MBE for services to Widening Participation in Higher Education.
Jagbir studied Ancient History and Social Anthropology at University College London and went onto University of Oxford to complete a DPhil in Social Anthropology on changes in marriage practices among the Sikhs of Britain. Before coming to Birmingham in 2002, Jagbir worked at Oxford as a Research Assistant on a project commissioned by the Department of Constitutional Affairs (now Ministry of Justice) looking at public law proceedings concerned with the care and protection of children focusing, in particular, on race and ethnicity in the Family Justice System. Jagbir established the first Sikh Studies course in the UK in 2002 and has since gone advise a range of Government and non-government bodies on issues and policy relating to the Sikh community.
Dr Jagbir Jhutti-Johal, Senior Lecturer in Sikh Studies said:
"It's such a wonderful surprise, and I'm completely humbled by the news. When I joined the University of Birmingham 16 years ago, I never expected to get the support that I did in setting up the first ever Sikh Studies course in the country. Being the only Senior Lecturer in Sikh Studies in the UK is not something that I take lightly, and it's truly important to understand and reflect upon the diversity of opinions within faith communities in Britain today. Given that we are celebrating the 550th anniversary of Guru Nanak Dev Ji's birth this year, I consider myself very fortunate to have been blessed with this an honour in such an important year for Sikhs around the world."
Malcolm studied History and Political Studies before gaining a PhD at the University of Leicester, financed by the Economic and Social Research Council, which explored the relationships between ideologies, industrialization, urban growth and schooling for the poor in late eighteenth and early nineteenth century England. Prior to joining the University of Birmingham in 2004, he taught and held management roles in post-16 education, moving on to lead two community history projects for Birmingham City Council. He has also held a role as a National Expert Advisor for the Heritage Lottery Fund. Malcolm joined the University within the Centre for Lifelong Learning and later the School of Education and successfully secured finance from the Heritage Lottery Fund and European Social Fund. Malcolm is currently the Director of the Centre for West Midlands History in the School of History and Cultures, Convenor of the MA in West Midlands History and supervisor of research students who specialize in the history of the Midlands. Malcolm is also Editor-in-Chief of History West Midlands History Ltd., editor of the journal Midland History and a trustee of the Black Country Living Museum and Newcomen Society. He is currently working on projects related to the 200th anniversary in 2019 of the death of James Watt.
Dr Malcolm Dick, Lecturer in Regional and Local History and Director in the Centre for West Midlands History said:
"I am more than honoured and surprised to receive this award for services to West Midlands History. I am pleased that it recognises not so much my work but the importance that local and regional history plays in enriching our understanding of people, place and community and how we connect past and present. Working with museums, archives and libraries, local history and community groups and students from undergraduate to PhD level over many years on West Midlands publication, digital, film and heritage projects has been extremely rewarding. It is so important to ensure that universities work with, support and enrich local history activities. I hope that I can continue and enhance the work that I am doing in the future."
Gail Rothnie has been Head of Outreach at the University of Birmingham managing a team of 18 staff working on the widening participation agenda as well as overseeing the Aimhigher Area Coordination activity for Birmingham and Solihull for 13 years. She represents the University on the Aimhigher Management Group, is Deputy Chair of the Realising Opportunities Management Group (a partnership of 15 Research HEIs) and a member of the Russell Group Widening Participation Group (she was group Chair in 2014). She was also a governor at a secondary school in Birmingham for 7 years, where she was Vice Chair of the Standards and Curriculum Committee.
Gail Rothnie, Head of Outreach said:
"I am delighted and honoured to have been given this award in recognition of my work to widen participation in Higher Education over the last 15 years. It is also a testament to the hard work and commitment of my colleagues in my university outreach team, the regional Aimhigher Partnership which we lead, the Realising Opportunities partnership of which we were a founding member and colleagues in widening participation across the sector. We are all committed in our work to ensure that students who are currently under represented in our universities are supported to access them, fulfil their potential and progress into rewarding graduate careers, and I feel privileged to work in this field with such committed colleagues and fantastic students."
Ends
For more information please contact: Dominic Benson, Deputy Director of Communications, University of Birmingham, on +44 0121 414 5134. Alternatively, contact the Press Office out of hours on +44 (0)7789 921165.
Notes to editors:
About the University of Birmingham
The University of Birmingham is ranked amongst the world's top 100 institutions. Its work brings people from across the world to Birmingham, including researchers, teachers and more than 6,500 international students from over 150 countries.