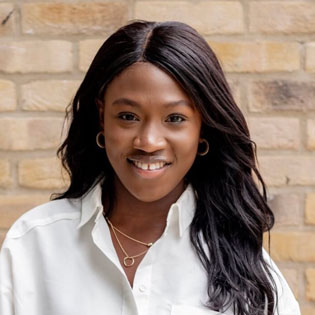 With Behind the Scenes at BLS we talk to a different member of our community and share their stories with you online. This week, we talk with student Oluwaronke Oladele on the opportunities in BLS both to learn the law and to participate community activism.
My time at Birmingham Law School helped me grow overall, increased my knowledge immensely and challenged me. I was not only able to improve my academics through developing my analytical and research skills but I was given the opportunity to get involved in the community. I was a school ambassador, mentor and a pro-bono volunteer at the Birmingham immigration clinic.
One of the most impactful activities I took part in was being part of the first BAME Community Champions in the law school. In this role, I was given the opportunity to champion equality and diversity matters within the law school. Alongside the rest of the team, we organised events such as: Black Solicitors Meet and Greet, Gowling WLG Application Event, Commercial Awareness Training and so many more. One of the most pivotal events was the student-lecturer forum that I suggested. This event allowed for BAME students to come together and express their grievances about their treatment and experiences in the law school. I was pleasantly surprised and happy that the team managed to create an environment where people were able to express themselves. I was also really impressed at the lecturers as they were completely engaged and empathetic towards the experience of the students. Although they were advocating about the issues privately, they were even more motivated by the testimonies of the students and this allowed them to be continue championing the cause. From this forum and through the help of these lecturers, Rehana Parveen, Emma Oakley, Natasa Maronicola, Mairead Enright, Ben Warwick, to name a few, along with staff such as Ben Atkins, there were more initiatives that rolled out from this event. For example, my teammate, Tasha Okoye and I presented findings from the forum to lecturers at a conference. The team conducted focus groups to explore issues further, amongst other things. One of the most, amazing things that have come out of this initiative is the Equality, Diversity and Inclusiveness team and the new module 'Decolonising Legal Concepts', which I wish I could take!
All in all, I really enjoyed my time at Birmingham Law School, from the content, lectures and the opportunities to getting involved and make a change in the law school. I really do hope that alongside their studies, incoming and current students partake in different activities because it builds up interpersonal skills, enhances employability and improves your overall law school experience.