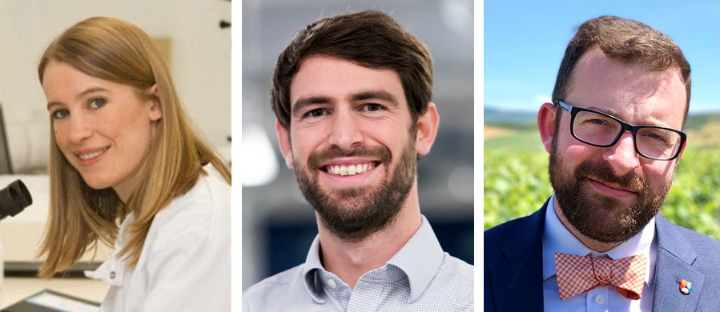 Three Birmingham scientists have been awarded prestigious research grants through the latest round of UK Research and Innovation's Future Leaders Fellowships.
UKRI's flagship scheme invests in outstanding individuals across the UK, supporting them to develop their careers while tackling ambitious challenges. Awardees will each receive between £400,000 and £1.5 million over an initial four years.
The Birmingham fellows include Dr Sophie Cox, in the School of Chemical Engineering and the Healthcare Technologies Institute, Dr Sandy Knowles, in the School of Metallurgy and Materials, and Dr Tyler Kelly, in the School of Mathematics.
Dr Cox's research will focus on the development of new metal alloys for biomedical applications, looking to overcome the greatest biological challenges such as infection by creating an antimicrobial composition.
Dr Knowles will be also be exploring the development of new alloys, this time for the extreme environments of advanced nuclear reactors and gas turbines. The work underpins the UK government's drive for technologies to commercialise fusion energy as well as aerospace innovation.
Dr Kelly, meanwhile, will be carrying out research in geometry. The work is in the field of mirror symmetry, a modern research field in pure mathematics that is inspired by concepts from theoretical physics and string theory.
Sir Mark Walport, Chief Executive of UK Research and Innovation, said: "The Future Leaders Fellowships are UKRI's flagship talent programme, designed to foster and nurture the research and innovation leaders of the future.
"We are delighted to support these outstanding researchers and innovators across universities, research organisations and businesses."
Kirsty Grainger, Director of the UKRI Future Leaders Fellowships, said: "The Future Leaders Fellows represent some of the most brilliant people working in the country. We're supporting researchers from every background – from the arts to medicine, and the social sciences to engineering – helping them become the research and innovation leaders of the future."
UKRI's initiative aims to support the creation of a new cohort of research and innovation leaders who will have links across different sectors and disciplines. The grant supports challenging and novel projects, and the development of the individual, and can pay for team members' wages, equipment and other needs.
For media enquiries please contact Beck Lockwood, Press Office, University of Birmingham, tel: +44 (0)781 3343348.
The University of Birmingham is ranked amongst the world's top 100 institutions. Its work brings people from across the world to Birmingham, including researchers, teachers and more than 6,500 international students from over 150 countries.