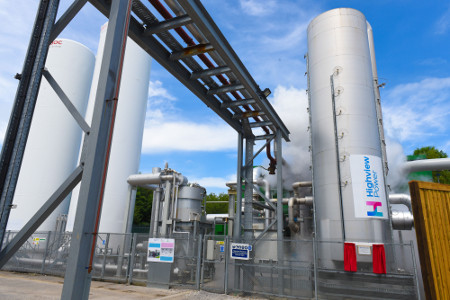 Construction has begun on Highview Power's 50MW cryogenic energy storage plant, which will store renewable electricity whilst creating over 200 jobs.
Referred to as the CRYOBattery™ plant, the site, expected to become operational in 2022 will be able to power up to 100,000 homes for five hours, and store power for many weeks.
Based in Trafford, Great Manchester, the construction of the CRYOBattery™ plant has a total project cost of £85m. Highview received £35m of investment from the Japanese machinery giant Sumitomo and has recently received £10m funding from government to support construction. Speaking about the investment, the energy and clean growth minister, Kwasi Kwarteng, said: "This revolutionary new facility will form a key part of our push towards net zero, bringing greater flexibility to Britain's electricity grid and creating green-collar jobs in Greater Manchester.
"Projects like these will help us realise the full value of our world-class renewables, ensuring homes and businesses can still be powered by green energy, even when the sun is not shining and the wind not blowing."
The CRYOBattery™ has been created using the concept of Liquid Air Energy Storage (LAES) an invention of Professor Yulong Ding and his team over 15 years ago, with Professor Toby Peters later supporting the commercialisation of the concept. Over the years, Highview Power and their sponsored Royal Academy of Engineering Chair, Professor Ding, have continued to innovate and develop liquid air based combined cooling, heating, water and power technologies for applications at community and city scales.
Speaking about the new plant Professor Ding said, "I would like to congratulate Highview Power for taking the concept of LAES to momentous heights. I am delighted to see construction begin on the world's largest liquid air battery. We must continue to innovate and invest in renewable energy technologies to reduce our reliance on fossil fuels and reach our decarbonisation targets".
The CRYOBattery™ plant will work by soaking up excess wind and solar energy, compressing and cooling it to -196°C, transforming the air to a liquid state that can be stored. When the stored energy is required, it is pumped to a high pressure and heated by ambient heat, creating a high-pressured gas that rotates a turbine that then generates electricity.
Going forward, Highview Power, together with partner Carlton Power plan to co-develop up to four additional CryoBattery projects in the UK, totalling over 1GWh of grid support capacity. Internationally, Highview is developing other sites in continental Europe and the US.