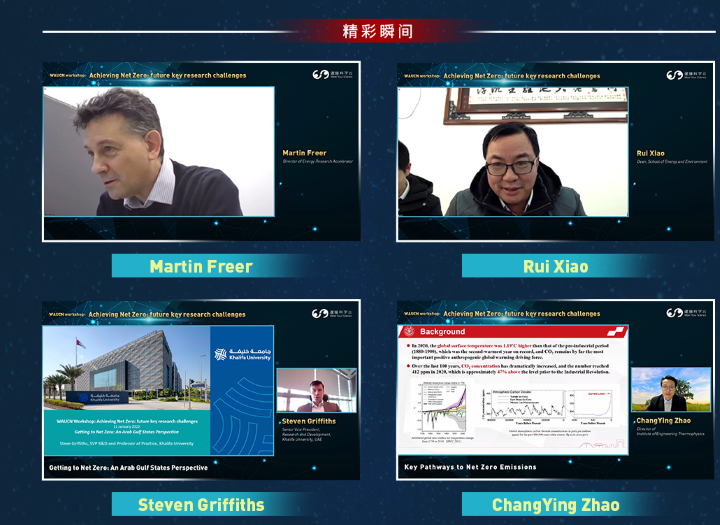 Senior academic leaders and experts from across the World Alliance of Universities on Carbon Neutrality (WAUCN) have joined forces to create a roadmap for tackling the challenges of achieving carbon net zero.
Experts from member universities of the Alliance, which was launched on the eve of COP26 by Southeast University, in China, and University of Birmingham gathered for a virtual workshop of 'Achieving Net Zero: future key research challenges'.
Organised by WAUCN and Birmingham Energy Institute, the workshop attracted over 100 participants from member universities around the world and was watched by 30,000 audience on live streaming.
The event brought together speakers from Khalifa University, Shanghai Jiao Tong University, Monash University, Leibniz-Institute for Catalysis, Zhejiang University, South Ural State University, Huazhong University of Science and Technology, Southeast University, Xi'an Jiaotong University, and the University of Birmingham.
Experts taking part showcased their work in pursuing net zero delivery, discussed the key research challenges and the importance of international, interdisciplinary, and cross-sector collaborations.
Professor Martin Freer, Director of Birmingham Energy Institute, commented: "The workshop was important in setting the scene for future priorities for WAUCN and aside from the clear message of the urgency with which innovation needs to happen, areas such as carbon capture, hydrogen and energy storage emerged as key topics. Future meetings will refine the thinking and seek to develop cross boarder collaborative programmes targeting these areas."
Professor Yulong Ding, Director of Birmingham Energy Storage, commented: "Carbon neutral energy transition has lots of challenges, which require not only technical solutions, but also solutions beyond technologies.
"Although many of the challenges are country and region dependent, common or similar solutions exist for issues such as decarbonisation of heat, cold chains, and transport. This first WAUCN workshop provided a great opportunity to understand these. We look forward to working with WAUCN members to addresses these challenges."
For more information, please contact Tony Moran, International Communications Manager, University of Birmingham on +44 (0)782 783 2312. For out-of-hours enquiries, please call +44 (0) 7789 921 165.
The University of Birmingham is ranked amongst the world's top 100 institutions, its work brings people from across the world to Birmingham, including researchers and teachers and more than 6,500 international students from over 150 countries.