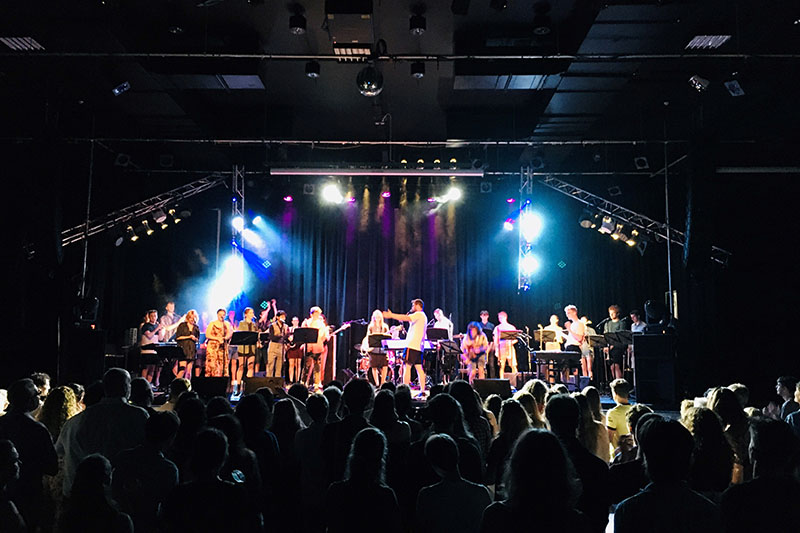 Hosted at the up-and-coming Digbeth music venue, The Crossing, the concert also saw the culmination of a six-month project where Birmingham students have worked closely with resident ensemble, Young Pilgrims, who headlined the evening with an energetic and intense live performance.
Dubbed a mini 'University Jazz Festival' across a five-hour set, the concert also featured student bands generated through the thriving Jazz Collective scene at the University, with seven distinct performances across two stages over the course of the event.
Jazz Orchestra is the University's premier auditioned jazz ensemble, creatively directed by Director of Jazz Performance, Jonathan Silk. It explores contemporary music written for large jazz ensemble, working on theme-based projects over the course of the academic year. In recent years the ensemble have worked on a variety of challenging musical projects; including interpretations of Kenny Wheeler's Sweet Time Suite and Jim McNeely's East Coast Blowout albums at CBSO Centre in Birmingham, a commission of new music by Olivia Murphy, as well as a performance alongside guest artist Iain Ballamy to present a concert of his own tunes arranged by Malcolm Edmonstone in the Elgar Concert Hall. Previous guest artists have included world-renowned musicians such as Bobby Shrew, Stan Sulzmann, Mark Lockheart, and Sara Colman.
University Music provides the University of Birmingham with one of the liveliest music-making scenes of any campus. With around 1500 positions available in our 35-plus ensembles, members participate in a variety of instrumental and vocal groups, across a range of abilities and styles. University Music is open to students, staff, and the local community, and provides participants with opportunities for professional coaching, exceptional concerts, as well as the chance to apply for yearly scholarships. To find out more, please visit the University Music website.