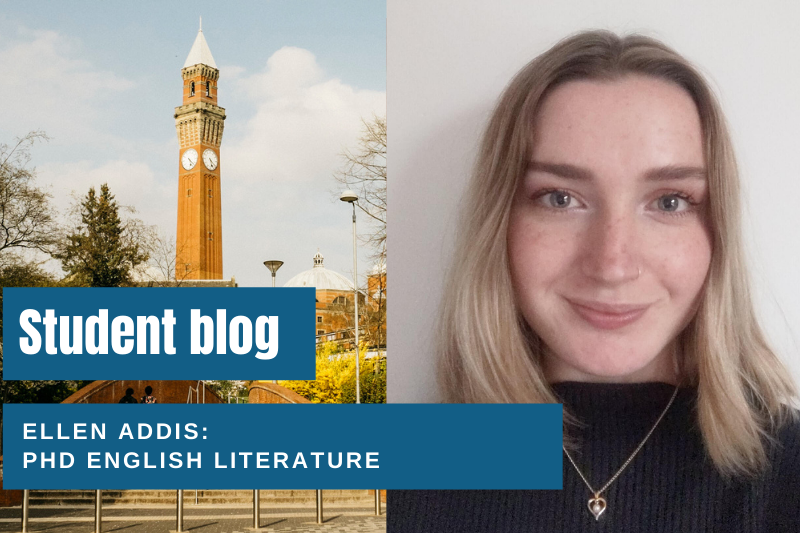 Considering your options for postgraduate study? PhD English Literature student Ellen Addis shares her five reasons why a PhD in English Literature may be perfect for you.
Stories can help you and others imagine the world
As you are interested in postgraduate study in literature, no doubt you love books. By reading and analysing stories, we open ourselves up to secret and hidden lives that would otherwise never be experienced. The study of English Literature enables deeper insights into these lives, probing our opinions, pushing our worldviews, and developing compassion for those outside of ourselves. Literature has the power to move, and the close reading required for English Literature PhDs can pry open political, social, and historical issues to uncover unseen parts of literature and allow us to view our own experiences with a fresh perspective.
You will rub shoulders with experts
The English department at the University of Birmingham is full of specialists within a range of fields, from Medieval Studies all the way to Contemporary Literature. You can browse the list of academic staff in English Literature to find the right supervisor for you. Your supervisor will support you throughout your PhD, and you could have opportunities for collaboration with them or across the department. By the end of your PhD, you will be the expert in your own field.
Literature PhDs can be very interdisciplinary
As a field, English Literature covers a broad range of subjects and topic areas. Consequently, your studies can be intersected with multiple disciplines: digital and material cultures, sociology, history, history of art, politics, sciences, music, geography – anything you put your mind to! This interdisciplinary nature not only will make your thesis completely original, but it will broaden the boundaries of what literature is and what literature can be. Overall, an interdisciplinary English Literature PhD gives you the transferable skills for whichever path you wish to take once you have graduated.
Within the English Literature department at the University, there are many Research Centres which will allow you to develop networks and skills through events and reading groups that explore the interdisciplinary nature of literature.
It will open doors to jobs in the cultural sector, academia, and beyond
A PhD in English Literature offers a great opportunity to gain valuable skills in critical analysis, communication, independent research, collaboration, and many more. As a PhD student and with different funding streams, there are also opportunities to take courses and go on work placements to further enhance your employability. The University's very own Careers Network provides expert guidance and activities for postgraduates to achieve their career goals.
Alternatively, a PhD in English Literature could be a route into academia. The PhD programme will make you an expert in your chosen field and widen your academic network with opportunities in conferences and teaching which could lead to a career in academia.
Collaboration and community
One of the best things about the English Literature PhD is the friendly research environment within the department at the University of Birmingham. The staff and fellow students are supportive, and there are numerous events and activities which help you engage with others and build your own community. There are a range of reading groups to take part in, on topics like contemporary theory, Gothic literature, and the romance genre. These groups can be a welcome break from your day-to-day studying, and within the department, there are other opportunities to network and collaborate with other students and staff such as setting up your own reading group, research conference, or guest lecture series.
Remember: the people that you will meet while doing a PhD in English Literature will be the support network who understand and empathise with being a PhD researcher. They will be there with you throughout your time at the University, so getting involved in activities is important!