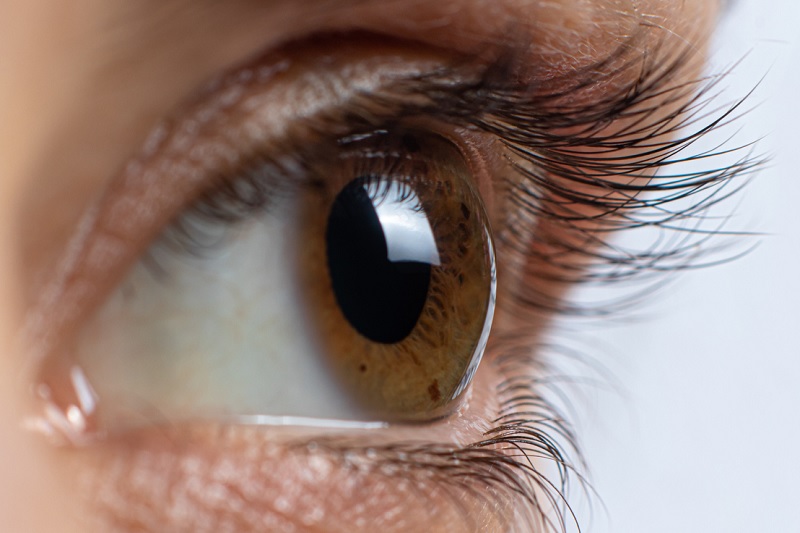 The University of Birmingham has created a new spinout, Healome Therapeutics Ltd, to commercially deploy a platform that delivers a 'pro-healing' microenvironment for the leading causes of preventable blindness.
The company's leading application will be in ocular surface diseases, which are notoriously challenging conditions to treat, and have progressively larger impacts on quality of life as the diseases run their course.
The Healome technology is a novel fluid-gel material that flows like a liquid, and self-structures into a thin, clear, protective layer over the surface of the eye which is gradually dispersed and cleared away by blinking over 2-8 hours (customisable depending on application).
The gel can be used alone, or as a 'carrier molecule' to deliver other therapeutics.
Studies have already shown that one of Healome's formulations has anti-fibrotic (anti-scarring) activity and these healing properties are augmented by combining it with other therapeutics.1
The technology was developed by a team led by Professor Liam Grover who is Director of the University's Healthcare Technologies Institute (HTI). It is envisaged that treatments developed from this platform will come in the form of clear degradable 'ocular bandages' that can be applied like normal eye drops.
Professor Grover, who is also a co-founder of Healome Therapeutics, commented: "There are many cutting edge drugs on the market or in development for diseases that affect the surface of the eye. One of the biggest challenges is to keep therapeutics on the surface of the eye for sufficient time for them to have an effect and more generally to regain or replace all the functions of the tear film."
The company's founding directors already have prior experience in commercialisation and advancing therapies towards Phase I-III clinical trials and include Professor Anthony Metcalfe, Industrial Professor of Wound Healing, formulation engineer Dr Richard Moakes, and Dr Richard Williams, whose work at the HTI involves translating healthcare technology concepts to finished products ready to enter clinical trials.
Although Healome will initially concentrate on Dry Eye Disease, in the long-term the company aims to partner with healthcare companies to co-develop new therapeutics for delivery to the surface of the eye.
The gels respond to shear stress, which allows it to change back and forth from a liquid to a soft-solid consistency according to the physical forces applied to it, such as extrusion from a container, or blinking.
Its mechanical and drug diffusion properties can be 'tuned' by physical rather than chemical changes to the base polymers. These attributes mean that pre-clinical or early clinical safety studies for new formulations will not need to be repeated and will reduce the time and cost to bring new products to market.
CEO of Healome, Dr Richard Williams, commented: "Ocular surface diseases leading to Dry Eye have a disproportionately large impact on health, well-being and the ability to enjoy life. These conditions can also be very expensive for patients to manage. There are many unmet patient, clinical and industrial needs in this area, which Healome Therapeutics is well-placed to address. Pre-clinical safety of the platform is well-established, GMP manufacturing has been set up to supply planned phase 1 trials and we have brought in significant executive experience in eye care to accelerate plans."
The researchers behind Healome have already raised £2.8m grant funding from the Medical Research Council (MRC) to progress the original concept from lab bench to completing phase 1 human trials. The developed platform and supply chain was then applied to help tackle challenges in ocular surface diseases via a £1.3m grant from the National Institute of Health and Care Research (NIHR) Invention for Innovation programme. The platform has also shown early promise in dermal and orthopaedic applications.
Healome Therapeutics has already raised £400k funding from Innovate UK and SFC Capital, It is now establishing its own laboratories at the Birmingham Research Park, which has been nurturing high-growth biomedical companies since 1986.
Phase I human trials to test the core technology in combination with therapeutics known to prevent corneal scarring and manage severe dry eye will commence in Q2 2022, supported by the University of Birmingham GMP manufacturing facility.
For media enquiries please contact Ruth Ashton, University of Birmingham Enterprise, email: r.c.ashton@bham.ac.uk.
For commercial enquiries please contact Dr Richard Williams, Healome Therapeutics Ltd, email: richard.williams@healometx.com.
The University of Birmingham is ranked amongst the world's top 100 institutions. Its work brings people from across the world to Birmingham, including researchers, teachers and more than 6,500 international students from over 150 countries. University of Birmingham Enterprise helps researchers turn their ideas into new services, products and enterprises that meet real-world needs. We also support innovators and entrepreneurs with mentoring, advice, and training and manage the University's Academic Consultancy Service. View our portfolio of technologies available for licensing.
About Healome Therapeutics Ltd
Healome Therapeutics ("Healome") is a Birmingham (UK)-based healthcare company focused on improving the quality of healing and function of damaged tissues by engineering and locally delivering 'pro-healing' micro-environments. The company was formed by the University of Birmingham to further develop and commercialise a fluid gel technology that is protected by a portfolio of six patent families covering its composition, the manufacture and use. The platform has diverse potential applications including use as wound dressings, and as a carrier for therapeutics delivered to the surface of the eye.
About Dry Eye Disease (DED)
Up to one in three people suffer from DED, which occurs when production of the tear film that provides lubrication, nourishment, and protection of the surface of the eye is compromised. DED has many root causes including trauma to the eye, age, inflammatory conditions affecting the whole body, or disorders of any one of the several glands in the eye that contribute to tear film production. One of the biggest challenges is to keep therapeutics on the surface of the eye for sufficient time for them to have an effect and more generally to regain or replace all the functions of the tear film.
University of Birmingham GMP manufacturing facility
The Advanced Therapies Facility works under a Quality Management System and achieves the quality and ethical standards required to maintain compliance with the Medicines and Healthcare products Regulatory Agency (MHRA) and Human Tissue Authority (HTA) regulatory licences covering the facility, to comply with the regulatory standards surrounding the delivery of clinical trials, and to quality assure the services it delivers.
References
1 Hill et al. Sustained release of decorin to the surface of the eye enables scarless corneal regeneration. npj Regenerative Medicine. 3, 1-12 (2018).