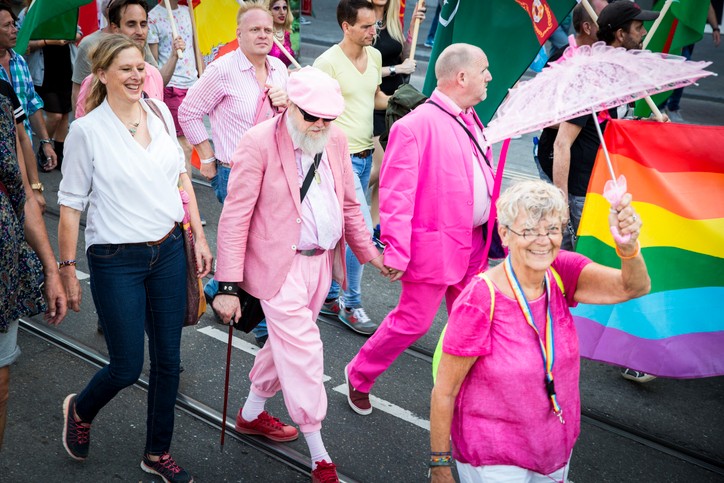 A new study will explore how LGBTQ+ people experience difficulties when interacting with social workers and are often anxious about discrimination or abuse as a result of their sexual or gender identity. The study, which is in collaboration with Opening Doors London and the Universities of Birmingham, Manchester and Bristol will investigate how older LGBTQ+ adults have raised concerns about receiving personal care services in their homes. However, little is known about older LGBTQ+ people's experiences of adult social care services (as provided by local authorities), their social care assessment process and wider social care services experiences.
The study which is known as LOASCA (LGBTQ + Older Adult Social Care Assessment) study will work with three local authorities to investigate social care assessments and how older people (65+) with support needs experience them, taking an in-depth look at the ways that practitioners doing assessments consider issues of sexuality and gender identity. Social care workers, including social workers and occupational therapists, complete social care assessments.
Dr Jason Schaub from the University of Birmingham, Principal Investigator of the project, said: "There is very little research about how social care engages with sexuality and gender identity when assessing the needs of older LGBTQ+ people. LOASCA will shed light on the adult social care experiences of LGBTQ+ people both about any discrimination or abuse they may have encountered, but also their relationship with their social care workers. This study will produce innovative knowledge to help councils to better support older people that live in their areas."
In addition to working with three local authorities, the study is informed by an advisory group which includes older LGBTQ+ people, service providers, and representatives from professional regulators and support organisations including Safe Ageing No Discrimination, Birmingham LGBT, Opening Doors London and Social Care Institute for Excellence.
Lyn Romeo, the Chief Social Worker for Adults said: "LGBTQ+ people experience particular challenges when accessing social care, but we know very little about how social workers support this group of older people. The launch of LOASCA will help our profession address the specific needs of the perhaps millions of LGBTQ+ people who will need social care in later life."
The project team also includes Dr Stephen Hicks from University of Manchester, Professor Ben Thomas from Opening Doors, and Dr Paul Willis from University of Bristol. The University of Birmingham's Dr Liadh Timmins will work as a research fellow on the project.
For further media information, please contact Hasan Salim Patel on +44 (0)7966 311 409 or out of hours office number on +44 (0)7580 744 943.
About University of Birmingham
Ranked among the world's leading universities, the University of Birmingham collaborates with partners across the world to produce ground-breaking research, deliver innovative teaching, and create opportunities for students and staff to gain international experience.
This study is funded by the NIHR School for Social Care Research (2021-2023, Ref number P190). The School of Social Care Research (SSCR) aims to develop the evidence base for adult social care practice in England. SSCR is funded by the National Institute for Health Research, one of the largest national health and social care research funders in Europe.
The National Institute for Health Research (NIHR) is the nation's largest funder of health and care research. The NIHR:
Funds, supports and delivers high quality research that benefits the NHS, public health and social care
Engages and involves patients, carers and the public in order to improve the reach, quality and impact of research
Attracts, trains and supports the best researchers to tackle the complex health and care challenges of the future
Invests in world-class infrastructure and a skilled delivery workforce to translate discoveries into improved treatments and services
Partners with other public funders, charities and industry to maximise the value of research to patients and the economy