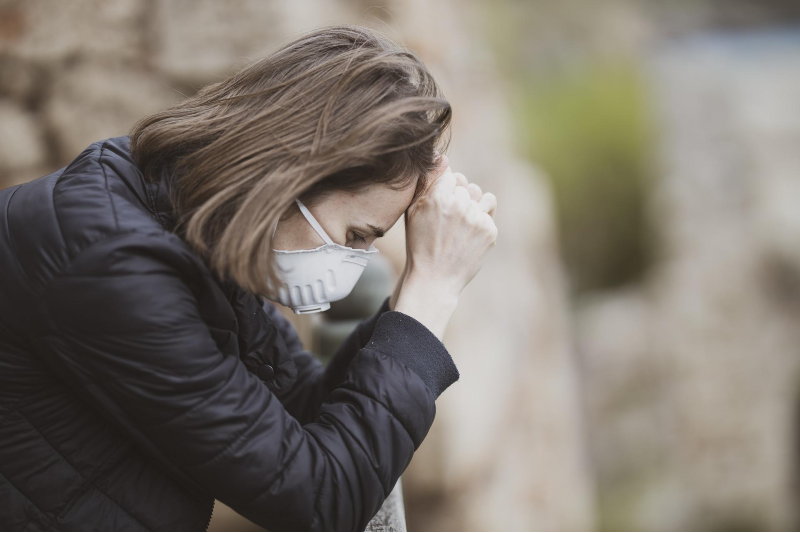 Developed with patients that have lived experience of Long COVID, the tool can capture symptoms and their impact on everyday life.
Currently more than 200 symptoms are associated with Long COVID which can affect people for months after the original coronavirus infection has gone. These can affect many organs in the body and include breathlessness, fatigue, or brain fog and are estimated to affect around 1.3 million people in the UK and more than 100 million people worldwide.
Healthcare providers and researchers need reliable ways of measuring these symptoms as they are experienced by patients to help them develop new treatments and provide the best possible care.
A team from the University of Birmingham's Centre for Patient-Reported Outcomes Research designed the Symptom Burden Questionnaire™ for Long COVID to address this challenge. Patients can use it to report symptoms and the data can be used to help identify treatments, and test whether these are safe and effective. The approach is published today (27 April 2022) in the BMJ.
"People living with Long COVID say they experience a huge range of symptoms but getting these recognised by healthcare practitioners and policy-makers has been a struggle. We designed and tested this tool with our patient partners to ensure it is as comprehensive as possible, while also not being burdensome for patients to complete."

Dr Sarah Hughes, Institute of Applied Health Research, University of Birmingham
I participated in a study quite early on in my condition and the questionnaire used didn't capture the breadth of what I was feeling. Being able to shape something that could record that experience more effectively is worthwhile and I hope it gives researchers and people like me taking part in future studies some valuable evidence.

Karen Matthew, LongCOVID SOS
The resulting questionnaire measures different symptoms of Long COVID and the impact of these symptoms on daily life. It was developed with extensive patient input following regulatory guidance, meaning its scores may be used to support regulatory decisions around the approval of new therapies for Long COVID and by policymakers.
The study was carried out in partnership with patient data technology specialist, Aparito Ltd, and funded by the National Institute for Health Research and UK Research and Innovation. The team plans to carry out more development and testing to explore how the tool can be used in routine clinical practice, including translating it for use in other countries and minority ethnic communities.
For media enquiries please contact Beck Lockwood, Press Office, University of Birmingham, tel: +44 (0)781 3343348
The University of Birmingham is ranked amongst the world's top 100 institutions. Its work brings people from across the world to Birmingham, including researchers, teachers and more than 6,500 international students from over 150 countries.
The Centre for Patient-Reported Outcomes Research aims to optimize the use of patient-reported outcomes in clinical trials and routine care, to improve service delivery, enhance patient care and outcomes and ensure that the patient perspective is at the heart of health research and decision-making.
Hughes et al (2022). 'Development and validation of the Symptom Burden Questionnaire for Long COVID: a Rasch analysis.' BMJ.
About NIHR
The mission of the National Institute for Health and Care Research (NIHR) is to improve the health and wealth of the nation through research. We do this by:
Funding high quality, timely research that benefits the NHS, public health and social care;
Investing in world-class expertise, facilities and a skilled delivery workforce to translate discoveries into improved treatments and services;
Partnering with patients, service users, carers and communities, improving the relevance, quality and impact of our research;
Attracting, training and supporting the best researchers to tackle complex health and social care challenges;
Collaborating with other public funders, charities and industry to help shape a cohesive and globally competitive research system;
Funding applied global health research and training to meet the needs of the poorest people in low and middle-income countries.
NIHR is funded by the Department of Health and Social Care. Its work in low and middle-income countries is principally funded through UK Aid from the UK government.
About Aparito
Aparito is a global health tech company that brings clinical trials to patients and unlocks real-world data through mobile apps, video assessments & wearable devices.

We provide innovative patient-centric solutions that integrate required clinical & regulatory expertise to capture patient data and develop digital endpoints for hybrid and decentralised clinical trials.
About UK Research and Innovation
UK Research and Innovation (UKRI) is the largest public funder of research and innovation in the UK, with a budget of around £8bn. It is composed of seven disciplinary research councils, Innovate UK and Research England.
We operate across the whole country and work with our many partners in higher education, research organisations businesses, government, and charities.
Our vision is for an outstanding research and innovation system in the UK that gives everyone the opportunity to contribute and to benefit, enriching lives locally, nationally and internationally.
Our mission is to convene, catalyse and invest in close collaboration with others to build a thriving, inclusive research and innovation system that connects discovery to prosperity and public good.