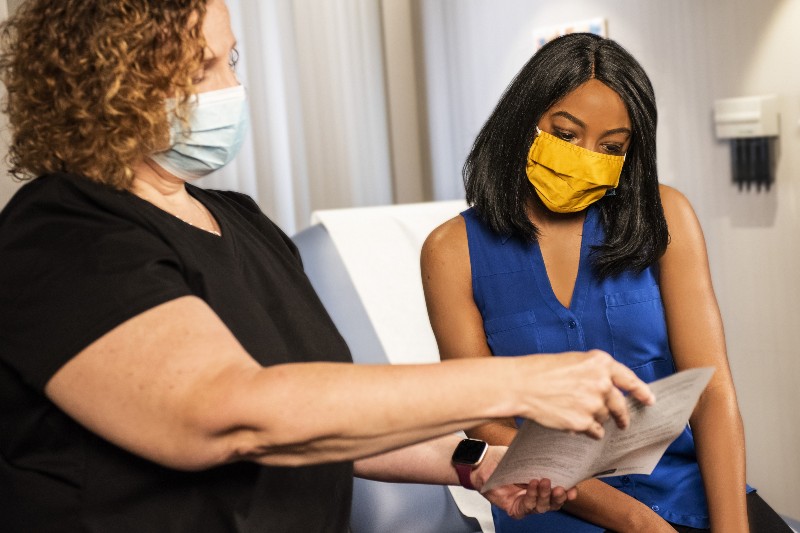 Patient Recorded Outcome (PRO) information is commonly collected in both clinical trials and clinical practice and ensures that the patient's perspective is at the heart of decision making. As use of these data become more commonplace, however, researchers in the University of Birmingham's Centre for Patient-Reported Outcomes Research are calling for more to be done to ensure such information can be provided by everybody.
In an article published today 5 May 2022 in Nature Medicine, researchers in collaboration with patients, regulators and international experts identify some of the barriers to participation such as access to technology, disability, language and cultural requirements and call for these to be addressed.
Lead author, Professor Melanie Calvert, said: "When we start to embrace new approaches to healthcare, such as use of patient-reported outcomes, we need to make sure that barriers to participation are addressed at an early stage. If we don't do this, the gaps between advantaged and disadvantaged populations will only get worse.
"Representative diversity in clinical trials is vital to ensure new medicines and technologies are applicable to the population they are intended to serve. Targeted initiatives are needed to ensure that no groups are excluded from participation in patient-reported outcome data collection, both in research settings and routine clinical care."
Specific recommendations in the article include:
Improve diversity by involving individuals who represent target populations when designing patient questionnaires.
Consider the type and severity of disease when seeking patient views, including cognitive or functional impairment that would limit participation.
Be aware of cultural needs or languages that might be a barrier, and address these sensitively and appropriately.
Include individuals with all levels of reading, writing and problem solving abilities by ensuring material is accessible and that assistance is available, if required.
Provide alternative methods of participation to promote digital inclusion
Where information is being used in drug development, make sure inclusivity is included early on in discussions about data collection.
When we start to embrace new approaches to healthcare, such as use of patient-reported outcomes, we need to make sure that barriers to participation are addressed at an early stage. If we don't do this, the gaps between advantaged and disadvantaged populations will only get worse.

Professor Melanie Calvert, School of Health and Population Sciences
Rav Verdi, a patient partner who co-authored the work, said: "As a patient and living in a cosmopolitan society it's encouraging to see that all walks of life have been considered and a means of communication thought about to glean information from the patient and to provide information to the patient regarding their care and treatment. As world-wide issue, information could be shared with treatment centres to provide better care and understanding of different groups of the population."
Roger Wilson, a patient partner adds: "Listening to patients reveals the range of diversity which must be understood and allowed for by careful design if a study is to offer benefits to society equitably."
Professor Calvert adds: "Patient-reported outcome measures and data collection must be reflective of diverse and multicultural societies, to improve research and promote equitable clinical care for the benefit of all patients and the public as a whole."
Lisa Campbell, Senior Medical Assessor at the Medicines and Healthcare products Regulatory Agency (MHRA) and co-author says: "Ensuring all patients are included and listened to early in the development process of a new treatment can help companies and research groups design the most appropriate clinical trials. These new considerations should serve as a guide for effective patient involvement in research so we can achieve better outcomes for all."
Dr Elin Haf Davies, CEO of Aparito: "As we welcome the broader adoption of PROs, we are mindful that it does not lead to greater inequality in healthcare access, from digital exclusion and more. These ethical considerations are important to guide us in how we move this work forward for the benefit of all."
The team are supported by a number of funders including the National Institute for Health and Care Research (NIHR); Biomedical Research Centre Birmingham; and Applied Research Collaboration West Midlands, Health Data Research UK and UK SPINE.
For media enquiries please contact Beck Lockwood, Press Office, University of Birmingham, tel: +44 (0)781 3343348.
The University of Birmingham is ranked amongst the world's top 100 institutions. Its work brings people from across the world to Birmingham, including researchers, teachers and more than 6,500 international students from over 150 countries.
UK SPINE aims to improve healthspan (healthy life-years) for patients with multiple age-related conditions. Our mission is to accelerate the discovery, development and testing of new drugs, by better understanding the underlying biology which drives these conditions, and work with patients and the public to consider the regulatory needs for such treatment. This network, driven by six partner institutions throughout the UK, is committed to the open sharing of knowledge, research and understanding of age-related illness. The UK SPINE is funded by Research England's Connecting Capabilities Fund (CCF), and places knowledge exchange at the centre of the network. It provides a platform for the geroscience community to share and exchange expertise, perspectives and experience. The name 'UK SPINE' draws on the geographic spread of the founding partner hubs (Universities of Oxford, Dundee, and Birmingham, the Medicines Discovery Catapult at Alderley Park, and the Francis Crick Institute in London), which forms a spine, connecting the locations across the UK.
The mission of the National Institute for Health and Care Research (NIHR) is to improve the health and wealth of the nation through research. We do this by:
Funding high quality, timely research that benefits the NHS, public health and social care;
Investing in world-class expertise, facilities and a skilled delivery workforce to translate discoveries into improved treatments and services;
Partnering with patients, service users, carers and communities, improving the relevance, quality and impact of our research;
Attracting, training and supporting the best researchers to tackle complex health and social care challenges;
Collaborating with other public funders, charities and industry to help shape a cohesive and globally competitive research system;
Funding applied global health research and training to meet the needs of the poorest people in low and middle-income countries.
NIHR is funded by the Department of Health and Social Care. Its work in low and middle-income countries is principally funded through UK Aid from the UK government.
Health Data Research UK (HDR UK) is the national institute for data science in health. Our UK team of experts develop and apply cutting-edge data science approaches to clinical, biological, genomic and other multi-dimensional health data to address the most pressing health research challenges facing the public. Our mission is to make game-changing improvements in the health of patients and populations through research and innovation. We are funded by the Medical Research Council, the British Heart Foundation, the National Institute for Health Research, the Economic and Social Research Council, the Engineering and Physical Sciences Research Council, Health and Care Research Wales, Health and Social Care Research and Development Division (Public Health Agency, Northern Ireland), Chief Scientist Office of the Scottish Government Health and Social Care Directorates, and Wellcome. www.hdruk.ac.uk
Calvert et al (2022). 'Patient reported outcome assessment must be inclusive and equitable.' Nature Medicine.