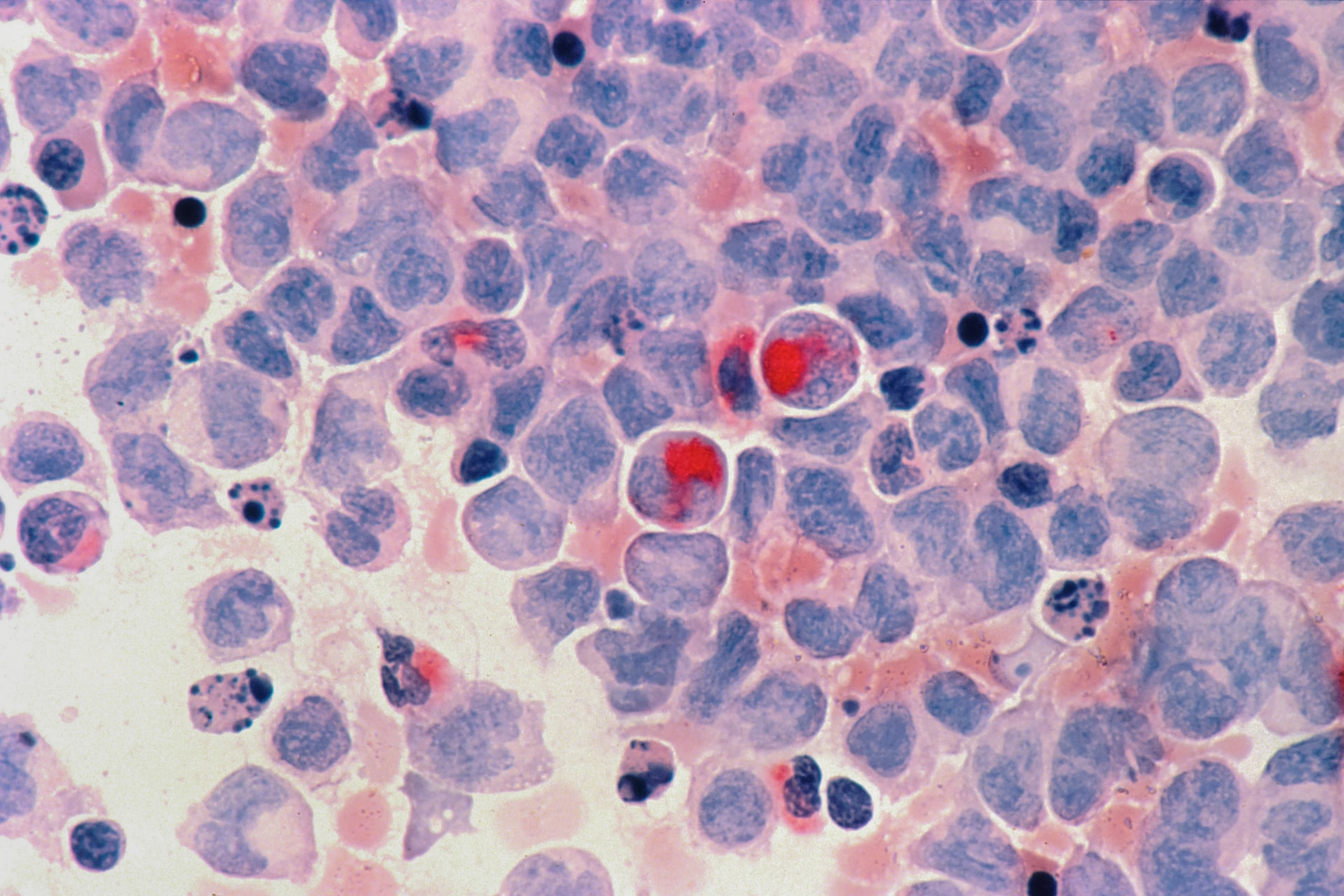 Patients with an incurable blood cancer - polycythaemia vera (PV) – may respond better to a new drug compared to conventional best treatment, a new University of Birmingham-coordinated trial has found.
Ruxolitinib, has been found to be better at treating the rare blood cancer that results in patients producing too many red blood cells compared to best currently available treatment. Researchers funded by Blood Cancer UK looked at how well the drug worked in those who don't respond well to the first line of treatment in a randomized phase-II clinical trial.
In this trial, dubbed MAJIC-PV, 39 different hospitals co-ordinated by the Cancer Research UK Clinical Trials Unit at University of Birmingham entered 180 people with PV. They compared ruxolitinib (a drug that targets JAK2 and is already approved for use in PV but not available in the UK) with currently available therapies. Ruxolitinib led to better control of the disease with normal blood counts and a reduced spleen size.

For the first time ever using samples from the study the researchers showed that both controlling the blood count and reducing mutated JAK2 by 50% led to fewer disease related events and those patients with reduction in JAK2 mutation lived longer and had lower risk of disease progression.
I am really pleased that this important clinical trial has found that ruxolitinib has long-term clinical benefit for the ongoing treatment of patients with PV

Professor Pamela Kearns
Professor Pamela Kearns, Director of the Cancer Research UK Clinical Trials Unit at the University of Birmingham said:
"Working on new treatments for incurable cancers is just the kind of thing that the Birmingham Cancer Research UK Clinical Trials Unit is about. I am really pleased that this important clinical trial has found that ruxolitinib has long-term clinical benefit for the ongoing treatment of patients with PV, and that further trials will be able to identify whether the drug can be used as an effective first line treatment."
Mark's story
Mark Hill is the first patient to enter the MAJIC-PV study. Mark said:
"I was diagnosed with PV in 2004. Over the following ten years my condition advanced, my health deteriorated and I was anticipating the worst to happen at any time. I did not respond at all well to all the treatments available, venesections were not sufficiently effective and drugs, including Hydroxycarbomide caused very unpleasant and unworkable side effects - things looked bleak.
"In 2012 I was successful in being randomised onto Ruxolitinib as a part of the MAJIC trial. The first I understand! Immediately everything improved. (Almost 'MAJICally'). My blood metrics came under control and have remained so now for nearly 11 years. My general health improved immeasurably (and I do put it through its paces!). Now I live a very active and healthy life, Ruxolitinib literally changed everything for me and my family.
"I am so pleased that after the hard work and dedication of everyone that has worked so hard to make this trial come to fruition the recent report makes it so clear that the impact of this drug is life changing for people with this, until recently, little understood condition. I hope and trust that it will now be recognised and allow access to it for those who need it to maintain their lives."
PV belongs to a group of conditions that affect the blood called myeloproliferative neoplasms (MPNs). Recently Tim Jonze from the Guardian and ex-radio one DJ David Hamilton have announced they have this form of blood cancer, raising awareness of this lesser-known disease.
The disease is caused by a mutation in a gene called JAK2 and can cause blood clots. Those living with the disease have a risk of a reduced life expectancy as well as development of more aggressive blood cancers including myelofibrosis and acute leukaemia.
One of the commonly used treatments is a drug called – hydroxycarbamide – but those whose cancer does not respond to this drug have a poor prognosis.
Professor Claire Harrison, consultant haematologist at Guy's and St Thomas' NHS Foundation Trust and the trial lead, said:
"For some time we have wanted to be able to understand the long-term benefits of a drug such as ruxolitinib for patients with PV. This study shows several important messages about this therapy which will hopefully shortly be available for UK patients. These are that comprehensively controlling the blood count reduces disease related events, and that molecular monitoring of mutation levels may also begin to be important.
"Patient therapy is chosen on an individual basis but options have hitherto been limited for PV patients. We are now studying this drug for newly diagnosed patients in a world-first study MITHRIDATE. I would like to thank all the patients who volunteered to be part of this study, their families, UK research teams, Novartis which provided the drug and Blood Cancer UK which funded the trial infrastructure and the trial management team.
Dr Suzanne Rix, Research Funding Programme Manager at Blood Cancer UK, said:
"Blood cancer is the fifth most common cause of cancer in the UK, affecting over a quarter of a million people. There is currently no cure for polycythaemia vera and there are a number of complications that can arise from it, so designing, developing and testing medicines to give patients the best outcome possible is vitally important.

"Blood Cancer UK is committed to funding excellent quality scientific research to ensure we deliver better treatments for blood cancer, faster. This trial is a great example of how collaboration between charities, academia, clinicians and pharmaceutical companies can deliver impactful results.
"Our heartfelt thanks go out to those who took part in the trial, without whom we wouldn't have been able to collect this vital information and continue to improve the outcomes for people with blood cancer."