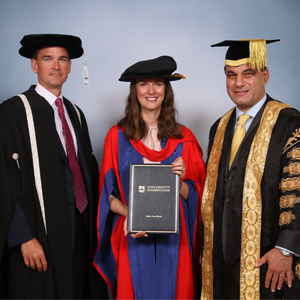 Chief Executive of the Birmingham Women's and Children's NHS Foundation Trust, Sarah-Jane Marsh received an honorary degree from the University of Birmingham.
Sarah- Jane joined six other honorary graduates and more than 5,000 students collecting their degrees this month in the University's iconic Great Hall.
After receiving her Doctor of the University award from Chancellor of the University, Lord Bilimoria, she said:
"I am honoured and privileged to become a Doctor of the University which holds such a special place in my heart - and standing side by side with hundreds of NHS colleagues who graduated from their leadership masters' made it even more special.
"However, this honour recognises the amazing work of Birmingham Women's and Children's and therefore belongs to each and every one of the outstanding 6,000 staff I have the joy of leading. It is these amazing people who make the real difference to the lives of so many children, women and families across the country – and they are the true stars."
Sarah-Jane has had a longstanding relationship with the University having studied for her MA in Russian and East European Studies in 2000, and then an MSc in Health Care Management in 2005 through the Health Services Management Centre, as part of her NHS Graduate Management Scheme programme.
Director of the University's Health Services Management Centre, Professor Judith Smith commented:
"HSMC has been proud to be part of the delivery of the educational components of the NHS Graduate Management Training Scheme over many years. We are always delighted when our former trainees assume senior management roles, and Sarah-Jane's outstanding leadership of women and children's health services in Birmingham is a credit to her commitment, hard work and passion for the NHS."
Since graduating from the University of Birmingham, Sarah- Jane's career has progressed rapidly; she was appointed Chief Operating Officer at Birmingham Children's Hospital in December 2007 and Chief Executive Officer in March 2009, making her at the time of her appointment, the youngest Chief Executive Officer in the history of the NHS. Under her leadership, the Trust was named 'Provider Trust of the Year' by the Health Service Journal in 2015, and rated Outstanding by the Care Quality Commission in February 2017.
Sarah- Jane has previously been named as one of the Top 50 Chief Executives in England by the Journal.