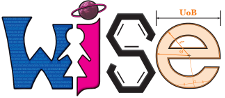 What a busy semester for WISE – we've had our first Inspire event, expanded our outreach scheme and collaborated more than ever!
We held our first speaker event of the year, WISE Inspire, early in the term. Four fantastic women came and chatted to us about their careers, their experiences as women in science and what they hoped for the future of women working in STEM. Special thanks go to Dr Ruth Patchett, the Outreach and Communication Officer for the School of Chemistry and a key member of ChemBAM; Zoe Pikramenou, a Professor of Inorganic Chemistry and Photophysics; Dr Aziza Mahomed, a senior lecturer in Mechanical Engineering and an advocate for engineering education; Adrienne Houston, an entrepreneur and owner of Eurovacuum Products. As well as preparing inspiring talks, they brought with them a relaxed atmosphere which lead to an evening of casual networking and of course pizza eating.
Alongside our Inspire event we've been working hard to improve and expand our award winning outreach scheme. Our amazing volunteers have been visiting two schools, Hillcrest Sixth Form and Selly Park Girls School, and we're planning on growing by starting at Bishop Challoner Catholic College next semester. This has been made possible by our hard working committee and over 100 volunteers! In the schools we've begun an introduction to coding workshop as well as continuing other activities such as making biodegradable plastics and creating magnetic slime. This is all alongside our regular after school sessions and we've also taken part in the University's Girls in STEM day with local schools. Alongside fellow EPS societies and academics, we ran two hour long 'Introduction to Robotics' workshops for female students in year 8.
As you can see, collaborations have remained high in our list of priorities both academically and socially, and we've been involved in some fantastic events! We kicked off the year with a careers event in partnering with PPS (Poynting Physical Society) and MathSoc involving companies such as Morgan Stanley, STFC and DSTL. These organisations came in to talk to STEM students about what a career with them could involve. With Women in Finance we brought another two careers events focused around Accenture who are our incredible lead sponsors this year! We've also worked with PPS socially to bring a charity open mic night raising £303 for Climate Coalition, and had fun with the Neuroscience Society on a Selly Oak bar crawl!
Finally, we've worked hard on gaining sponsorship this year and it's payed off! As well as the amazing Accenture, we've been awarded grants from the Alumni Impact fund for Students and Caterpillar! The Alumni Impact Fund is allowing us to further develop out Girls in STEM scheme and we're very grateful for their support. The Caterpillar funding will be used to bring you more exciting events such as a collaboration with oSTEM (Out in STEM) and BEaMS (Black, Ethnic and Minority Scientists) in the form of a spring conference: Equal in STEM – Conversations on dismantling prevalent barriers for STEM students and graduates. So save the date, 5 March and we'll keep you updated!
If you'd like to get involved find us with @wiseatuob on Facebook, Instagram or Twitter.