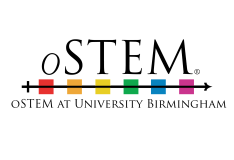 This semester has been quite different for oSTEM, as I'm sure it has been for many, but that hasn't slowed us down! We have had good engagement across everything we've done so far this semester with especially good involvement from incoming first years.
Just after lockdown began in March, oSTEM setup our very own Discord server! We started this as an informal way to continue socialising virtually but it turned into a great collaboration between oSTEM at University Birmingham and oSTEM Birmingham Postgraduates and Professionals. This has created a space where we can share ideas between the two societies and interact in a way we couldn't before. It also proved invaluable to our members as it provides networking with those who have already graduated, plus it offered a community to our postgraduates and professionals which they may not have known existed. Make sure you come and check out our buzzfeed-quiz channel when you join the societies!
This year we have also increased the frequency of regular events. This included introducing weekly collaborative quizzes where both committee and members can host a quiz with rounds on topics they find interesting. On top of this, we have continued our weekly coffee socials but in new ways: sessions now include structured activities, such as online games, and use software with proximity chat to simulate in-person get-togethers!
So far this semester we've had many highly successful non-regular events including some exciting collaborations! Firstly, we teamed up with WISE for a ghostly Halloween pumpkin carving competition. We had two categories (spooky and STEM) and put the final vote for each category to our members. Winning pumpkins earned a £15 eVoucher and you can see the successful carvings below! Turnout was incredible and we saw some really creative carvings coming out of the "Great Pumpkin Shortage"!
Another benefit of virtual events was the oSTEM Inc. 10th Annual Conference. For the first time ever, both committee and members could attend! Generally, we can only afford to fly a few committee members out the conference location in America who would then we then feed back to the rest of our Chapter at our own conference. This huge Conference was particularly enjoyable and adapted to the situation well, especially since they kindly considered UK time zones when developing the schedule!
Finally, at the end of the semester we then collaborated with CSS on a social media campaign showcasing University of Birmingham LGBTQ+ staff in STEM. We reached out to the Rainbow Network and received responses from five people ranging from lecturers to PhD students, including oSTEM's very own staff liaison Dr Tyler Kelly! This was a great opportunity for the community to learn more about LBGTQ staff at the University as well as gain some wisdom and advice. You can read all the profiles here at https://www.facebook.com/ostemuob/.
Our most successful event of the semester was our annual Winter Meal Gone Virtual. Every year oSTEM visits a local restaurant for our final social of the year but with the current pandemic, this wasn't possible. Instead, we encouraged our members to purchase takeaways from their favourite restaurants and reimbursed each for up to £10! This allowed our members to join our weekly coffee social with their takeaway paid for, creating a virtual festive meal. It was a huge success socialising and playing games while we ate. For those that couldn't make it to the social aspect, we still provided them with food during a stressful final week of term.
oSTEM has had an incredible semester, especially given the circumstances, and has adapted to the changing situation quickly. Hopefully next semester will be just as successful!
Watch this space for an exciting event announcement for 2021...
Claire
Chair of oSTEM at University Birmingham
To find out more about oSTEM visit their website www.birmingham.ac.uk/eps/ostem.
There are 42 student groups in the College of Engineering and Physical Sciences. To learn more about their projects and activities head to www.birmingham.ac.uk/eps-societies.