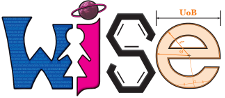 During lockdown, a period when the rest of the world stood still, it was a busy time for WISE as we prepared for the forthcoming year and all the challenges it brings.
Firstly, after an online AGM hosted mid-April, WISE welcomed a new committee with representatives from a diverse range of subjects across both the EPS and LES Colleges. The new WISE committe are:
Chair: Paige Ramsden
Vice-Chair: Dorrotta Tényi
Secretary: Sarah Lloyd
Outreach Officers: Alice Rutter-Eley, Ellie Wigg and Weronika Wiesiołek
Engineering Rep: Verity Page
Although we have yet to meet in person we, along with the rest of the world, have embraced zoom calls! Having held regular meetings over the summer we've been able to discuss the current situation and plan accordingly, leaving us well-prepared for the approaching year.
The extra time that lockdown provided allowed WISE to complete several tasks which have long been on the agenda. An official WISE constitution has been created, offering clarity on our aims and procedures. The WISE website has been updated to give a more constant layout. We've also increased our social media presence, establishing a rota to ensure consistent activity. Recent posts include links to exciting events, articles on new scientific developments, recommended science podcasts, insightful blogs on equality in STEM fields etc.
Over summer we've also hosted an interview series called 'Meet Your Community' with short (10-15 mins) recorded talks with leaders of other University of Birmingham STEM societies. In each interview we give a detailed description of each society and discussed their plans for the upcoming term. Primarily with an aim of promoting these societies to potential new members, it also allowed us to develop our relationships with the other societies. In particular, it's been a great opportunity to establish new connections with societies from the LES and MDS Colleges, and newly formed groups such as Women In Tech (WiT) and Women in Medicine (WoMed).
With the impending start of the semester our current focus is how to promote to new students in lieu of the traditional freshers' fairs. With several colleges and schools hosting virtual welcome activities, we'll have an online presence in the Engineering School Q&A and the virtual EPS Societies Fair, with more to be confirmed.
Despite the strange and unknown circumstances, the WISE timetable for the forthcoming semester is filled with several exciting events and talks. Our established and popular WISE Inspire will go ahead, albeit in an online format. Our outreach scheme 'Girls In STEM' is also going ahead this year. In order to be COVID-19 resilient we have plans in place for every possible scenario. As it currently stands, we will be able to lead sessions physically in one school while providing virtual and online teaching in the others. We are also exploring alternative methods of engagement with the students, such as tutoring and mentoring schemes. Other ideas for this semester include small research-focused discussions between academics and students, skill-developing workshops and online networking events.
WISE is also planning several socials, with many in collaboration with other societies. Although the online format rules out many of our traditional society events, we're excited about what other possibilities it opens. Current ideas include a Netflix Party night, Bingo, online game competitions and online karaoke. We won't let this stop us!
Stay tuned!
To find out more about WISE visit their website www.birmingham.ac.uk/eps/wise.
There are 42 student groups in the College of Engineering and Physical Sciences. To learn more about their projects and activities head to www.birmingham.ac.uk/eps-societies.