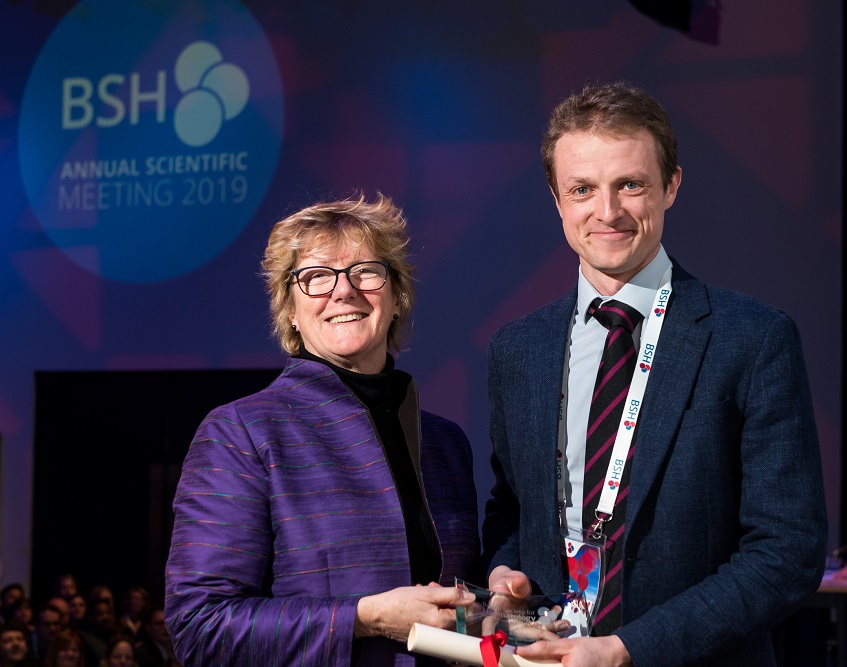 Dr Phillip Nicolson, Clinical Lecturer in the Institute of Cardiovascular Sciences and a Specialty Registrar in Clinical Haematology at Queen Elizabeth Hospital Birmingham, was recently announced as a recipient of the 2019 National Institute of Health Research/British Society for Haematology Researcher of the Year Award.
Dr Nicolson was selected in recognition of his contribution to clinical research in haematology and was presented with his award at the British Society for Haematology Annual Scientific Meeting, which took place in Glasgow in April this year.
He chairs the national trainee research network, HaemSTAR, which has been instrumental in increasing recruitment to numerous clinical studies, and has successfully gained funding for a very large national audit of treatment of immune thrombocytopenia purpura, a condition that can result in excessive bleeding. He has also worked on numerous research studies with the West Midlands Clinical Research Network as their trainee representative.
This is the second year running that a Birmingham haematologist has received this award. Dr Gill Lowe, Consultant Haematologist at UHB and Honorary Senior Clinical Lecturer in the Institute of Cardiovascular Sciences, was awarded in 2018. Dr Lowe and Dr Nicolson work in the same clinical team, which has seen rapid expansion in research activity in recent years.