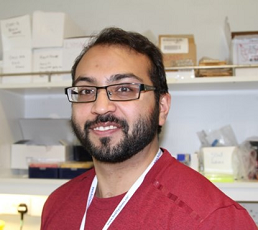 Dr Abdullah Khan, Postdoctoral Researcher with the Birmingham Platelet Group, has been awarded a prestigious Sir Henry Wellcome Postdoctoral Fellowship.
Dr Khan completed his PhD in 2019 at the University of Birmingham and transitioned into the role of BHF Postdoctoral Fellow with the Birmingham Platelet Group. Over the course of his three-year PhD, Dr Khan produced four first author papers, co-authored six and has been awarded a number of internal grants, including a Proximity to Discovery Award and a BHF Accelerator Disruptive Idea Award.
Over the next four years the award will fund research into developing a novel bone marrow organoid, which emulates the complex and cell rich micro-environment of this physiological system. This project will involve the differentiation of induced pluripotent stem cells (iPSCs), 3D bio-printing, microfludics, and advanced light microscopy at the Institute of Cardiovascular Sciences and Healthcare Technologies Institute at the University of Birmingham, and in collaboration with Harvard Medical School and Oxford University.
Dr Khan aims to use this approach to interrogate how megakaryocytes, key bone marrow cells responsible for the generation of platelets and the maintenance of a healthy microenvironment, are involved in the development of a rare bone marrow cancer called myelofibrosis.
The development of a human artificial bone marrow will vastly improve our understanding of how the disease develops, and provide a platform for the development of much needed therapies for this condition.