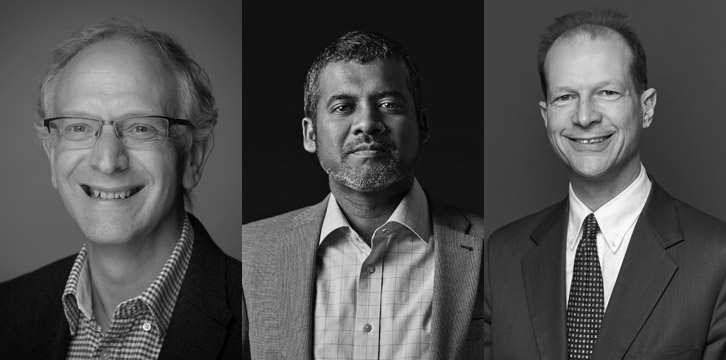 Professors Chris Buckley, Arri Coomarasamy and Paul Moss from the College of Medical and Dental Sciences have been appointed National Institute for Health Research (NIHR) Senior Investigators.
The NIHR's Senior Investigators are among the most prominent and prestigious researchers funded by the NIHR and the most outstanding leaders of patient and people-based research within the NIHR Faculty.
Birmingham's trio are among 43 Senior Investigators selected by the NIHR in the eleventh round of appointments, made in February 2018.
Professor Buckley, Deputy Director of the Institute of Inflammation and Ageing, is a leading rheumatologist and was instrumental in the formation of the Arthritis Therapy Acceleration Programme (A-TAP), an alliance between the Universities of Birmingham and Oxford and seven NHS partners to accelerate discovery in this important area.
Professor Coomarasamy leads a research group at the forefront of early pregnancy care, reproductive medicine and global women's health, and is Director of the Tommy's National Centre for Miscarriage Research.
The Centre, which was the UK's first dedicated early miscarriage research centre, was established in 2016 and aims to halve the number of miscarriages by 2030 by funding medical research to understand the cause and effect of miscarriage.
Professor Moss's research is focussed around the application of translational immunological research in the study of human disease. Professor Moss is Director of Research and Knowledge Transfer at the College of Medical and Dental Sciences, and previously served as Chairman of the Infection and Immunity Board at the Medical Research Council.
Professor David Adams, Head of the College of Medical and Dental Sciences and Director of Birmingham Health Partners, said: "Congratulations to our three new NIHR Senior Investigators. Their awards are jointly held with our NHS partners – Birmingham Women's and Children's Hospital NHS Foundation Trust, Sandwell and West Birmingham Hospitals NHS Trust and University Hospitals Birmingham NHS Foundation Trust – and are a real accolade for Birmingham Health Partners.
"They reward the outstanding leadership Chris, Arri and Paul have provided in three areas of translational research strength in Birmingham: maternal health, inflammation and cancer."
Senior Investigators are appointed from NIHR Investigators through annual competitions informed by the advice of an international panel of experts. In total, over 300 Senior Investigators have now been appointed, with the number of active Senior Investigator awards maintained at around 200.
Professors Peter Brocklehurst and Jon Deeks have also been recognised as Emeritus Senior Investigators, which is awarded to researchers who have completed two terms as a senior investigator.
Professor Brocklehurst specialises in obstetrics and gynaecology and is Director of the Birmingham Clinical Trials Unit. Professor Jon Deeks is Associate Director of the Birmingham Clinical Trials Unit and leads the Biostatistics, Evidence Synthesis and Test Evaluation Research Group in the Institute of Applied Health Research, where he also holds the position of Deputy Institute Director.